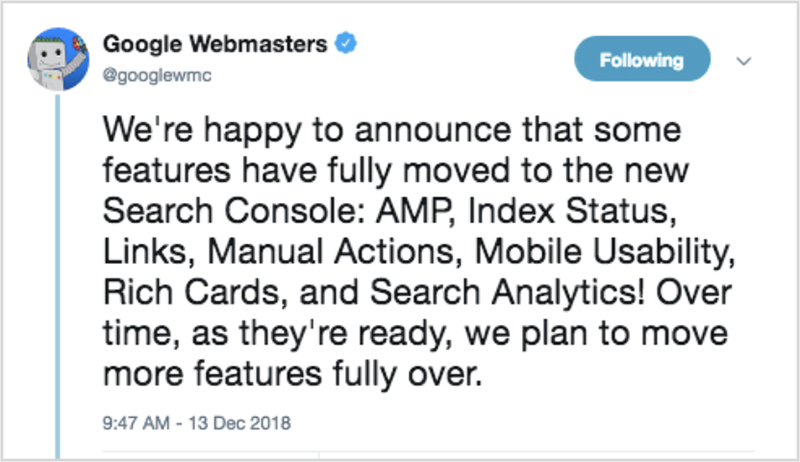 Google is slowly moving features and data from the old Search Console to the new one. However, not all are happy with the way data is presented within the new search console because many reports are missing from it. Although Google has promised that all the data will be available in the new version as well.
Google announced via a tweet that reporting features for AMP, Index Status, Links, Manual actions, Mobile Mobile Usability, Rich Cards, and Search Analytics have been successfully moved to the new Search Console.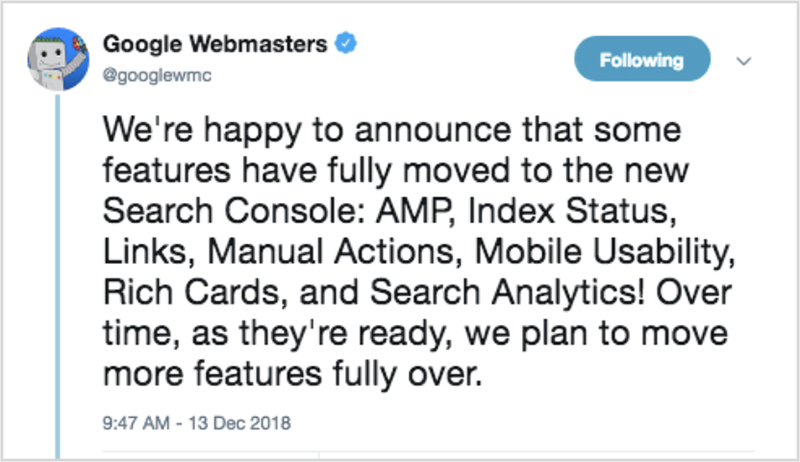 Here's a table that shows which reports have been moved where and what are they called.
Old Search Console report
Replacement in New Search Console
Comparison
Search Analytics
Performance
New report has 16 months of data and is much easier to use.
Rich Cards
Individual Enhancement reports
New reports provide detailed debugging information, and a one-click request to recrawl fixed issues.
Links to your Site
Internal links
Links
New report combines both Links to your Site and Internal Links report, with more reliable link count numbers.
Index status
Index Coverage Status
New report provides all the information of the old report, plus detailed crawl status information from the Google Index.
Sitemaps report
Sitemaps
Similar information, but better-designed report. The old report supports testing a sitemap without submitting it; the new report tests only upon submission.
Accelerated Mobile Pages
AMP Status
Many more error types reported in the new report, plus a fix flow to request reindexing of fixed pages.
Manual Actions
Manual Actions
The new report shows your manual action history, including review requests and results.
Fetch as Google
URL Inspection tool
The URL Inspection tool shows information about the indexed and live versions of a URL, with the ability to request a crawl. New information includes the URL of the canonical page, any noindex/nocrawl blocks, and whether or not the URL is in the Google index.
Mobile Usability
Mobile Usability
Similar information, but in a more usable format. Also provides a fix flow to request reindexing of pages with fixed mobile usability issues.
Takeaway: Google search console is one of the most powerful marketing tools out there. It provides you with invaluable data, so if you are not using it, then we highly recommend reading this guide on how to get your website on search console and start utilizing this powerful tool to the fullest.
And if you are already using the new Search Console, the above table will help you locate old reports. Maybe it will be bit difficult to get used to the new Search Console, after using the old one for years, but as we all know, the only thing constant in digital world is change. So get used to the new interface and use it to your advantage.