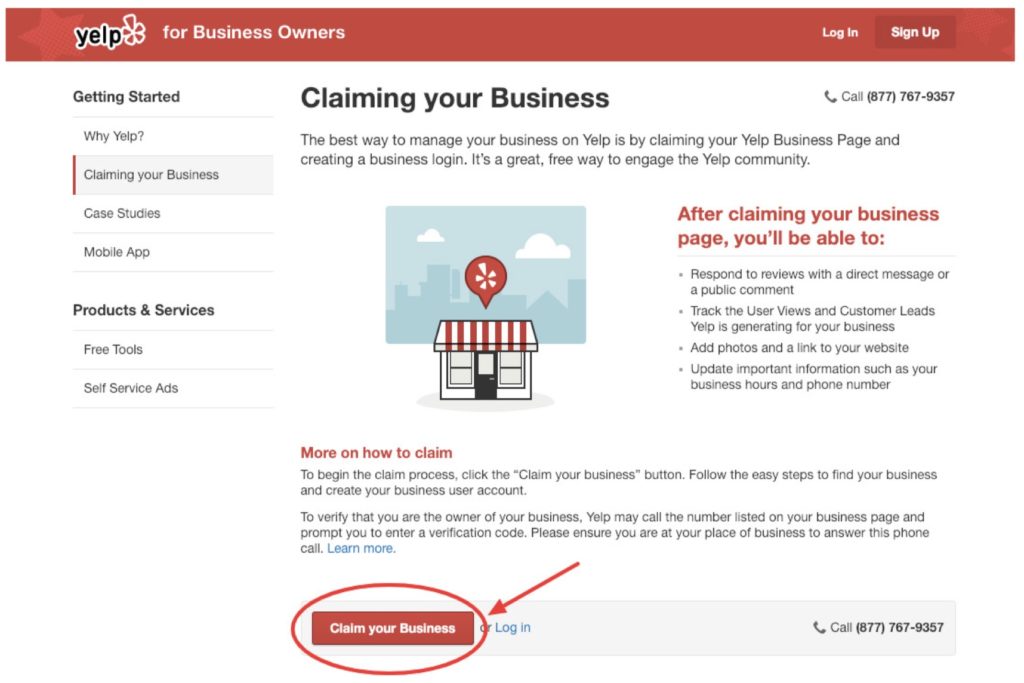 If you run a business that relies on local search traffic for the majority of your custom, Yelp is an essential asset to your business' online strategy. Fortunately for you, businesses can also establish a presence on Yelp to communicate with the community of users built up on the app. This puts you in the driver's seat where your business is concerned, and allows you to harness this incredible platform to grow your customer base.
Let's Get Started
If your business has been recently established, you may not even be listed on Yelp. Fortunately, the app has a comprehensive infrastructure for helping you register your business, or take control of it if it has already been listed on the app.
If the business is already listed, visit the Claiming Page and click "Claim your Business".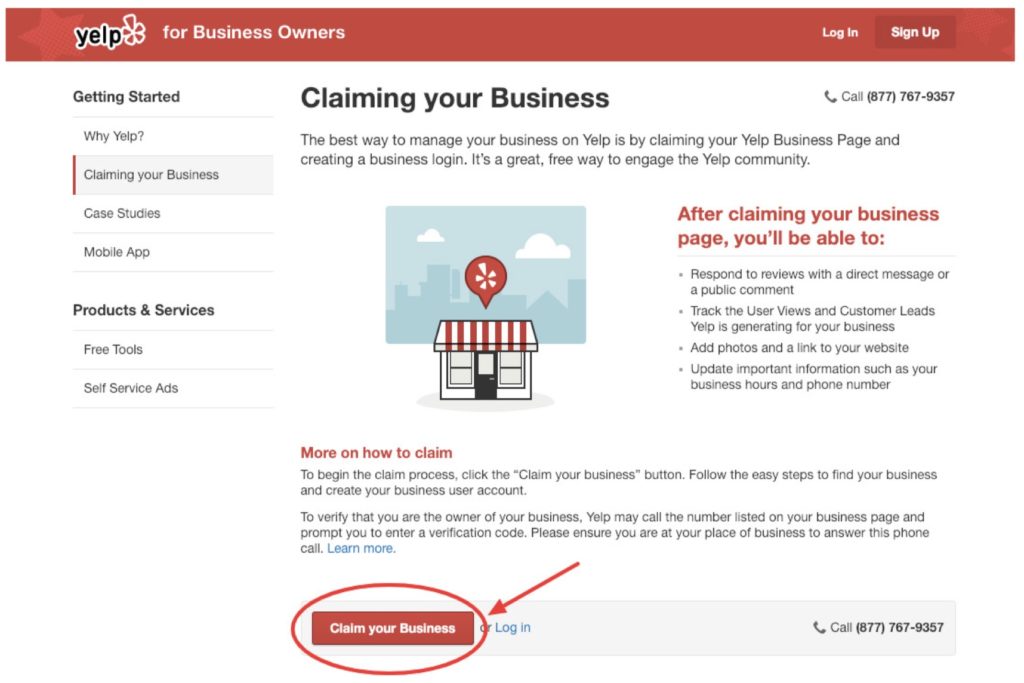 If you searched for your business and couldn't find it, simply click "Add a Business" at the bottom of the page.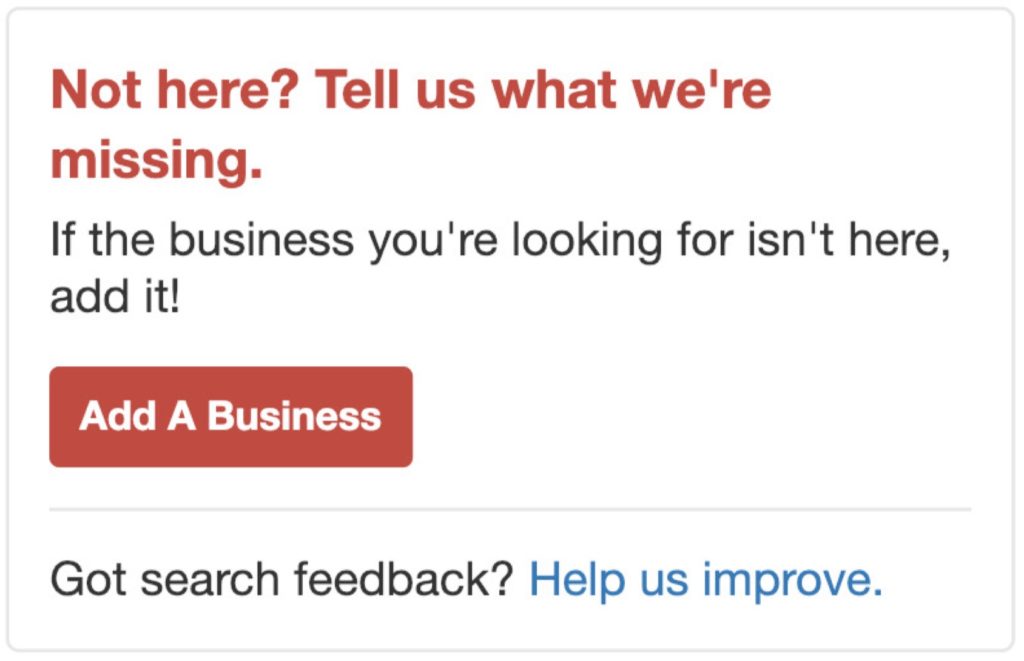 If your business has already been unlocked, that means someone else has already claimed your business. You need to get in contact with Yelp to find out how that happened, and prove you're the real owner to reclaim the account.
If your business has been listed by users, you can unlock it. You'll be expected to provide your first and last name, email address, a password, and as with any app, agree to the Yelp terms of service. This will create the business account for you to start posting.
If you have any issues creating your business account on Yelp, the Yelp for Business Owners section of the site has all the information you should need.
Yelp for Business Owners: 3 Versions to Choose From
While most of the best practices for Yelp for business owners above are available on the free subscription to Yelp, there are available three different versions to you.
1. The free version allows you to claim your business and establish your profile among the Yelp community. You'll have some control over the content that's on your profile, and the ability to upload your own photos and respond to reviews. Yelp describes this level as allowing you to do the following:
Update your business information
Upload photos
Add your categories and service offerings
Respond to reviews
Respond to appointment or quote requests
Create a Yelp Deal or Check-in Offer
2. The next product offered for Yelp for business owners is a paid service, called "Page Upgrades." As Yelp describes, this version allows you to "turn visitors into customers." Basically, this version allows for more customization than the free version, as you can add call-to-actions and remove your competitors' ads. Here's what Yelp says this version can do:
Add a call-to-action button
Remove competitor ads from your page
Customize a photo slideshow
Get access to Yelp customer support
3. And finally, the most expensive version of Yelp for business owners is the Yelp Advertising product.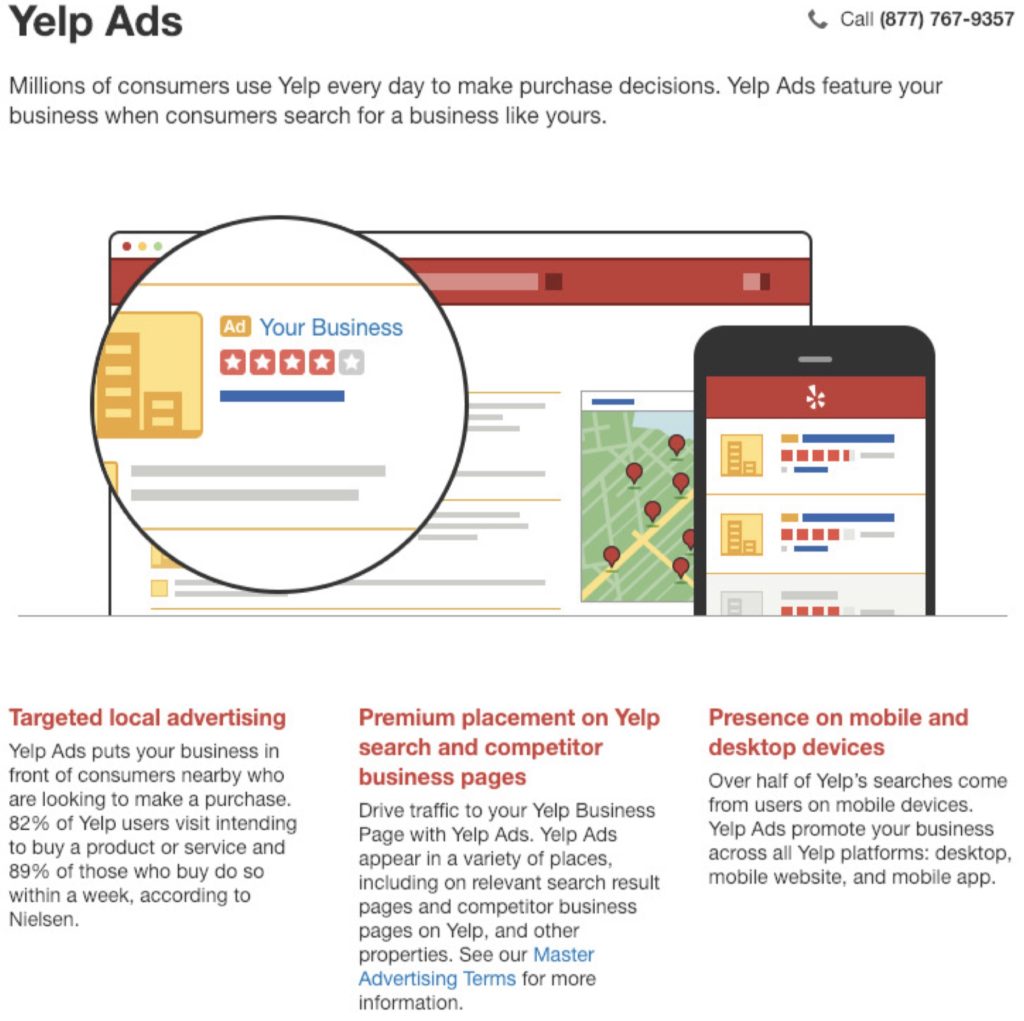 This product is pretty straightforward – it allows you to set up ads on the Yelp app. With this account, you can customize all your ads on Yelp. You'll also have access to customer support to help you with your advertising efforts. Here's how Yelp describes this level:
Set your own budget
Start/stop your campaign anytime
Customize your ad's photo, text, and more
Get access to Yelp customer support
As part of Enhanced Yelp optimization, one should aim for a Verified Yelp listing.


To verify that you are the owner of your business, Yelp may call the number listed on your business page and prompt you to enter a verification code. Please ensure you are at your place of business to answer this phone call. To claim your business, click on the "Claim your Business" option next to your business. You will be required to give your email address. Once that is done, you will receive an automated phone call to the number mentioned in the listing. If the listing has a wrong phone number, you will have to send a request to Yelp to change it before they call you.
A verified Yelp listing allows you to update following things
Update your business information
Upload photos
Add your categories and service offerings
Respond to reviews
Respond to appointment or quote requests
Create a Yelp Deal or Check-in Offer
Hours
Under this section, add your business's opening hours.If your business stays closed on a particular day, choose that option. Also, if your business is closed temporarily, fill out this form to let customers know that your business is closed and until when.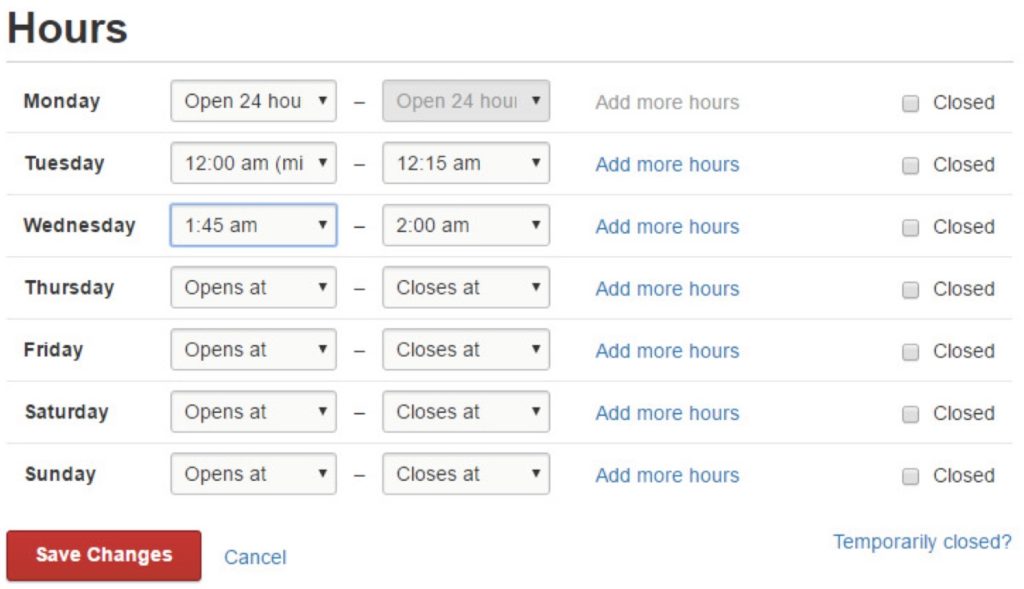 Specialties – Include information about what your business specializes in. Make sure that you include all important keywords about your business here.
History – In this section, you can describe the history of your business and the year of business establishment. This will help customers know more about your business and its values.
Meet the Owner/Manager – Under this section, you can describe a bit about the owner or manager of the business. Write a short bio about the manager/owner and also upload a bio photo. This information will be helpful for your potential customers and it will easier for your customers to directly contact you.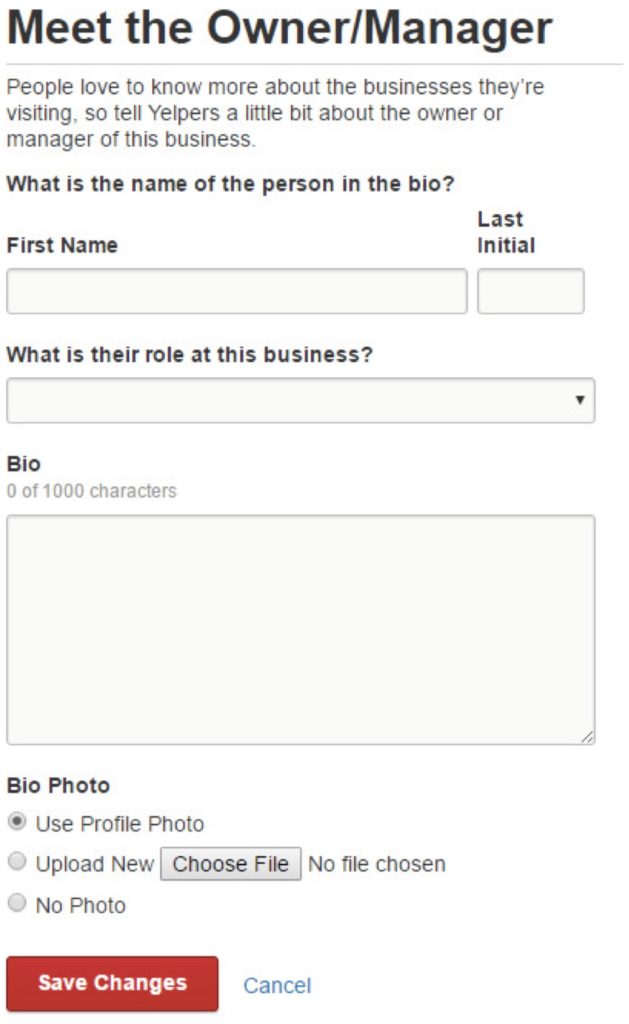 Create Check-In Offers – Check-in offers can help you attract new customers and reward your existing customers. With check-in offers, your customers will unlock a special offer when they "check-in" to your business using Yelp. This way, your customers will broadcast to their friends on Yelp that they are at your business. With this Yelp feature, businesses can create special offers like a discounted price or a free item for customers who check-in.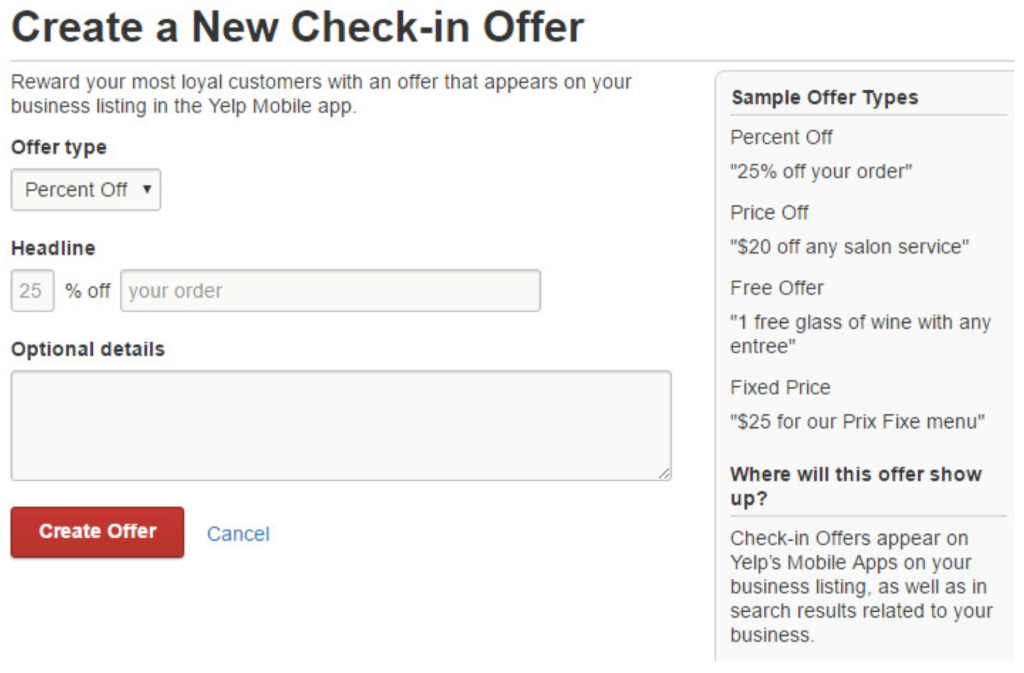 Encourage Positive Reviews – Ask your happy customers to take a few minutes to give you a review on Yelp. Include an encouragement on promotional materials you hand out or put up in your store. A gentle nudge or a reminder of how much it means for your business can make your loyal customers that much more likely to take the time to say a few kind words about you.

Utilize our proprietary Dashboard Review Widget as well as our Survey Module to get positive reviews for your business listing on Google and Yelp.