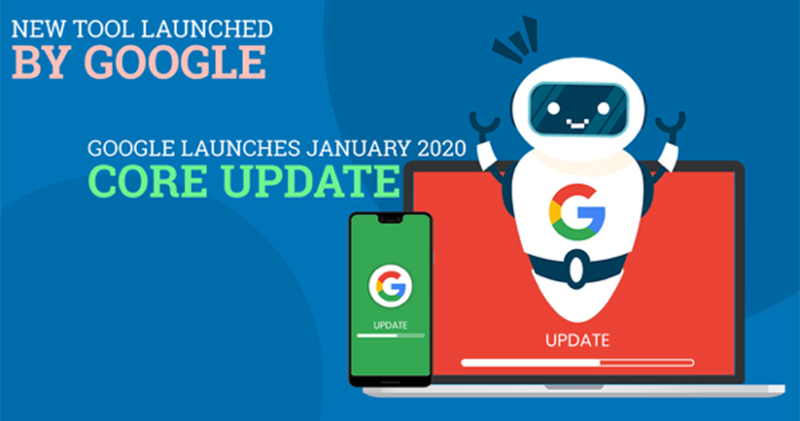 The beginning of the new decade and the new year saw another major core update from Google known as the "January 2020 Core Update." This core update began on 13th January and continued to roll out till a few weeks later. Google shared the update via Twitter, in a fashion similar to what we have seen for all the previous Core Updates.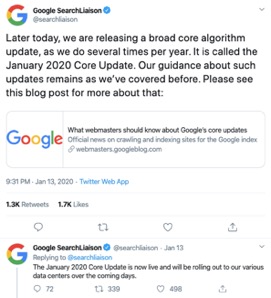 Google also included a link in their tweet to an August 2019 blog post that gives a better understanding of their Core Updates.
A simple example would be, the top results for "Best Movies to watch" in 2018 may or may not be the same in 2020. This does not mean that the top movies in 2018 weren't good, it just means that newer or more relevant, resonating content features higher on the list.
Actionable Strategy
Evaluate your website content to see if your site has taken a toll following the core update. FYI, we didn't see any negative impact on our client websites.
Some things to keep in mind before evaluating your website:
Content and Quality
The content must provide original information, reporting, research, and analysis.
It must also provide a considerable, complete, and thorough description of the topic.
It must include any insightful analysis or interesting information beyond the ordinary.
In case the content is drawn from an external source, avoid copying and rewriting. Always make sure the content you post has ample additional value and originality.
The headline and/or page title must provide an in-detail, helpful summary of the content.
Avoid exaggerating and trying to sound shocking when it comes to your headlines and/or page titles.
Ask yourself whether the page is worth bookmarking, or even sharing/recommending it to a friend.
Expertise
Always make sure your content has clear sourcing, highlights evidence of the expertise involved, and gives the background of the site that publishes the content or about the author.
Make sure to get your content written from an expert or enthusiast who is well-versed with the topic.
Also, make sure that your content is free from factual errors.
The content you publish must resonate with others, leading them to trust your content.
Presentation and Production
Never publish or produce content that appears mediocre or content that has been created in a hurry.
A basic but essential tip is to always keep your content free from spelling or stylistic issues.
Make sure that the ads published on your page do not exceed and cover the content as that would lead to distraction.
Your content must be mobile optimized!
Comparative Value
Your content must provide substantial value if/when compared to the other pages that appear in search results.
Never play the guessing game, the ranking comes when your website visitors can resonate with you. Hence, produce content that serves the interest of your clients.